Recognition, Honors, and Testimonials
Houzz.com:
"Best of Remodeling" award for both Design and Customer Service
Angie's List:
"Super Service" award–an honor bestowed annually on only approximately 5 percent of all the organizations rated by the nation's leading provider of consumer reviews of local service companies
Washingtonian Magazine & Luxury Homes (among several national publications):
Overall Excellence, Kitchen Remodeling

Better Business Bureau:
A-Plus Rating, reflecting superior customer focus and corporate integrity
Equally significant are the wonderful words of praise from our clients: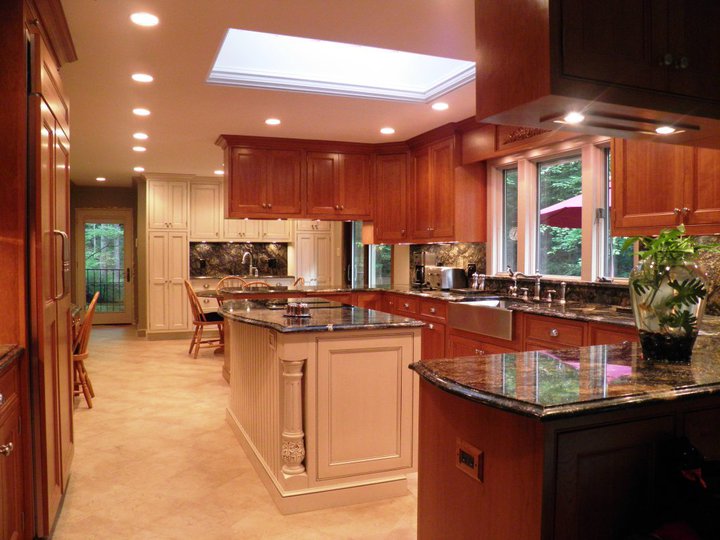 "We were very pleased with your entire company, who helped make out kitchen a fabulous place."
Each person was careful about working within our home, and everyone cleaned up very nicely each day. (…) the crew was incredibly punctual and ready to work at precisely 7:30 every day. It was evident that everyone was proud of their personal work and would not settle for just ok. We truly could not be happier with our final masterpiece, and have no regrets on our choices. Thank you for providing the kitchen of our dreams!
"The whole process- from design to demolition to rebuilding- went very smoothly. Everyone who sees our kitchen is beyond impressed."
Costs were precisely as budgeted and the project was completed a day earlier than the deadline. Execution was seamless. Every issue in retrofitting a 54-year-old layout was foreseen and incorporated into the design. Personnel were superlative in their skills, always pleasant, and clearly enjoyed working together.
"Our experience with Cameo Kitchens was magic from start to finish. What a joy to collaborate with our talented, inspiring designer, who took our dreams and transformed them into an even more beautiful reality. Our work crew was simply incredible–skilled, efficient, detail-oriented, and so kind that we missed them all when the renovation was complete. As thrilled as we are with our perfect new kitchen, we count ourselves even luckier to have experienced the whole remodeling process, from the first drawings to the nuts-and-bolts of installation, with such an amazing group of people. Thank you to Cameo Kitchens for the gorgeous finished product. . .and the many happy memories along the way."
Kevin Troop & Tracy Stewart
"I needed hassle free, turn-key support, which I got from Day One–and an outstanding, on time, on budget result. I could not be more pleased. Outstanding products and unparalleled craftsmanship from everyone involved–proving Cameo Kitchen's long standing experience and reputation in their industry."
"Cameo made our kitchen the star of our home!"
Would you like to see more? Stop by the showroom, and ask to see our albums of customers' notes and letters!
Recognition and Honors
Our company's work has been published in a number of national and local magazines. We have also consistently won numerous awards.
Kitchens by Professional Designers

25th Anniversary Edition, 2013

Kitchen Collection

Book VII, 2011

The Art of Kitchen & Bath Design

Designer Kitchens, Baths & Other Rooms, Book XII, 2009

The Art of Kitchen & Bath Design

Designer Kitchens, Baths & Other Rooms, Book XI, 2008

"I Want a New Kitchen" A professional's advice on remodeling

Washingtonian: January 2006 Issue

The Art of Luxury Living: The Kitchen Collection,

Book IV, 2006

Recommended by the Washingtonian

Washingtonian: October 2006 Issue

Kitchens by Professional Designers

Book XVI, 2004

Designer Kitchens and Baths

Book VII, 2004

Recommended by the Washingtonian

Washingtonian: October 2003 Issue

Overall Excellence in Operating a Kitchen & Bath Dealership

Kitchen &Bath Design News: October 2002 Issue

Kitchens by Professional Designers

Book XIV, 2002

Designer Kitchens and Baths

Book IV, 2001

Kitchens by Professional Designers

Book XIII, 2001

Recommended by the Washingtonian

Washingtonian: October 2000 Issue

Kitchens by Professional Designers

Book XII, 2000

Designer Kitchens and Baths

Book III, 2000

Designer Kitchens and Baths

Book II, 1999

Recommended by the Washingtonian

Washingtonian: October 1998 Issue

Designer Layouts

January 1998

Homeowner Magazine, September 1990
Awards