Portfolio
Our Projects
We pride ourselves in creating kitchens in a wide variety of styles with the same top quality for over 30 years.
See Gallery
Reviews
Customer's Letters
A former customer is the most knowledgeable customer. Check out our testimonials and ask us for references.
Read Letters
Step-by-Step
Remodeling Process
All Cameo kitchens are executed in a timely manner with a precise, detailed plan and fixed price contract.
Learn How It Works
Introducing the foremost kitchen remodeling firm in Northern Virginia:
One company. One contract. One commitment.
At Cameo Kitchens, every customer works with one designer who will walk with them through each step of the remodel experience. Once there is complete agreement on all design elements, Cameo's contract will detail the work to be done, state a firm price, and specify a start date. Most jobs take about four weeks to complete. Some may take longer, depending on the relative complexity of the installation.
When your beautiful kitchen is finished, you'll be telling your friends that Cameo Kitchens sets the standard for quality in design, materials, and professional service. Our master craftsmen will see to that. After all, we're not finished until we meet and exceed all of your expectations. That's our commitment to you.
Take your time as you review the kitchens on this site, and when you are ready, please call us.
---
Cameo Kitchens is licensed to do business in the counties of Fairfax, Loudon, Prince William, and Arlington,
the cities of Falls Church, Alexandria, Fairfax, and Leesburg, and the Town of Vienna.
What Our Customers Say
"We were very pleased with your entire company, who helped make our kitchen a fabulous place."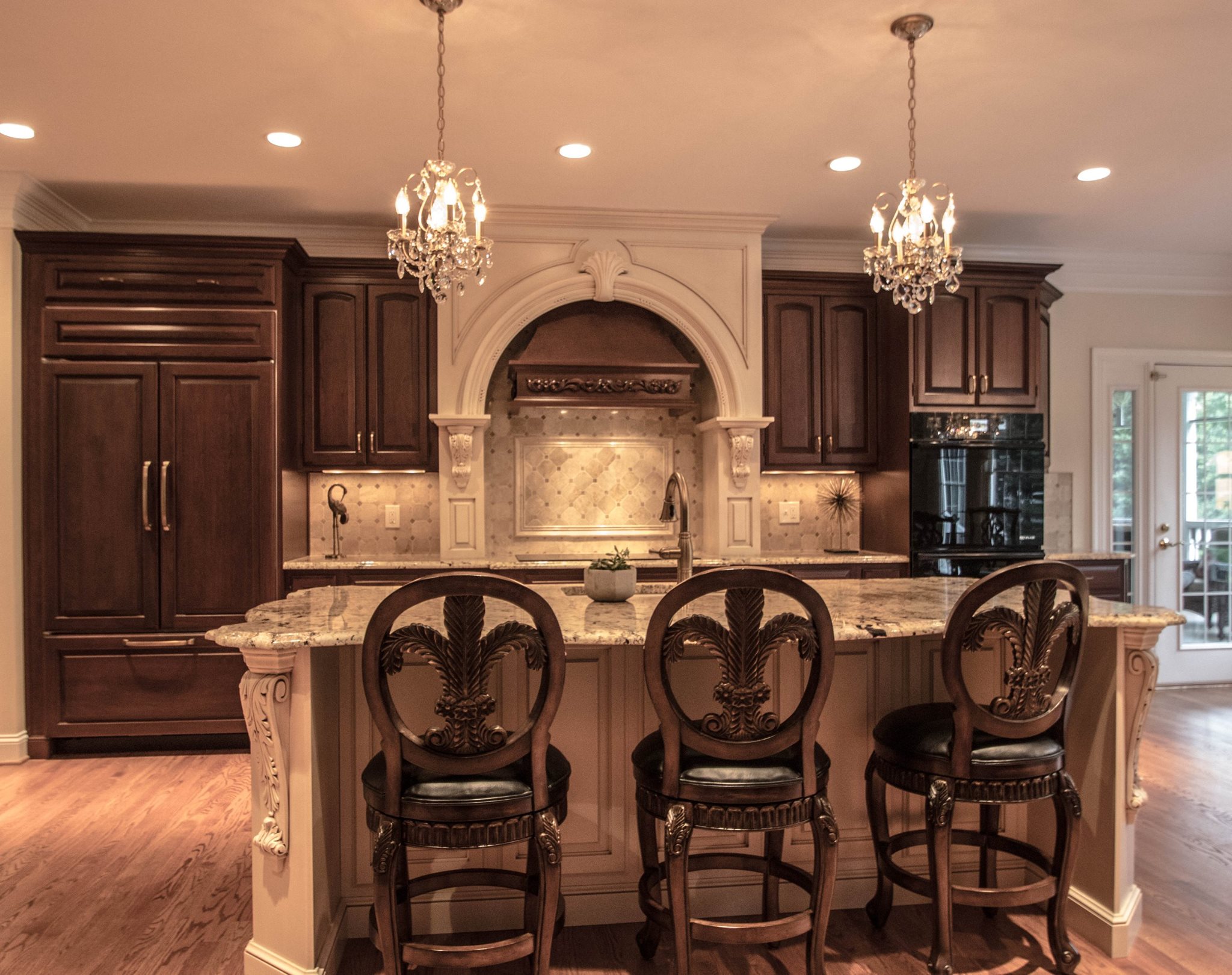 Our project began on time, all the cabinets were on site, and all appliances arrived as scheduled. Despite starting in January with winter weather impacts our new kitchen was completed in a timely manner. It is beautiful as well as functional and we get nothing but compliments. It is rare to find a company that emphasizes quality over quantity and is attentive to every aspect of the project. That is why you have earned such a fine reputation!
Olivia and Mitch Michener
---
"In forty years' experience as homeowners, this was the most outstanding experience."
Time and time again, when speaking to the managers and staff from the appliances stores, flooring companies and countertop suppliers they raved about Cameo stating they are "flawless" "the best" and "have outstanding customer service"….. This is what finalized our decision. We knew we'd be spending a lot of money on this project (no matter who we hired) and Cameo stood out with their referrals and their professionalism during the estimate. Now that our kitchen is completed, I can't tell you how happy I am that we chose Cameo!
Read More Testimonials
Call Today for a
FREE CONSULTATION
---
Phone and Fax
Address
7297–M Lee Highway
Falls Church, VA 22042
Hours
Mon. – Fri. 9:30am – 5:30pm,
Sat. 9:30am – 2:00pm
Email
Awards